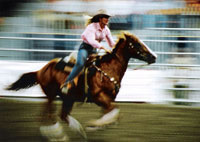 Dating back to 1926, the Jasper Heritage Rodeo takes place every August in Jasper Alberta and to this day both locals and tourists still enjoy this exciting cowboy event which includes bull riding, bareback riding, barrel racing and steer wrestling.
The 2017 event will take place on August 16, 17, 18, and 19, and as always it's sure to be one of the funnest weekends of the summer in Jasper.
*Here is a brief summary of the 2016 events to whet your appetite!*
Each evening from 6pm you'll be able to see thrilling rodeo events at the Jasper Heritage Rodeo Grounds, such as bare back riding, steer wrestling, roping, ladies barrels, saddle bronc and bull riding. Doors open at 4.30pm, and there will be a shuttle service to the Rodeo Grounds from downtown Jasper.
Throughout rodeo week there will be fun events around town, starting with a Stick Pony Parade at 10am on Wednesday August 17 at Jasper Activity Centre, where kids will get their own chance to take part in the rodeo. Also, from Wed-Fri you'll be able to grab a great lunch while admiring the scenery at the Fund Raising BBQ in the CIBC parking lot from 11am to 2pm.
Other fun daytime events include Jasper Volunteer Fire Brigade Pancake Breakfast from 9am-11am at Jasper Fire Hall and Lil' Britches Corral from 11am-1pm at Jasper Rodeo Grounds.
All in all the 2017 Jasper Heritage Rodeo will be a fun event for the whole family, and a great time to visit Jasper.
For more information about the Jasper Heritage Rodeo visit www.jasperheritagerodeo.com.
To find accommodations in Jasper during the rodeo, visit www.jasperhotels.com