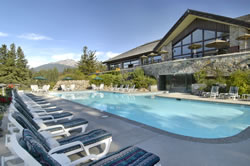 Taking a dip in a swimming pool or hot tub can be a great way to start your day in Jasper National Park, or can be the perfect way to unwind at the end of a day in the mountains. Staying at one of the Jasper hotels with pools can make that experience much more convenient and there is certainly a good selection of hotels in Jasper with pools of various shapes and sizes, ranging from swimming pools large enough for a good swim to hot tubs or hot pools where you can just sit and relax. Below you will find several options for Jasper accommodations with pools, both large and small:
The Fairmont Jasper Park Lodge has an outdoor heated swimming pool (see photo above) which is large enough for swimming laps, and is also perfect for relaxing after a day of hiking or skiing. The pool, which is open year round, is surrounded by a deck with lounge chairs and enjoys impressive views of the lake and mountains.
Guests at the Best Western Jasper Inn & Suites can take advantage of an indoor pool, Jacuzzi, sauna and steam room.
Mount Robson Inn offers two outdoor whirlpools for guests to enjoy.
At the Lobstick Lodge there is a heated indoor pool as well as 3 outdoor jacuzzis plus a sauna.
The Forest Park Hotel offers an indoor heated swimming pool approx 15m long as well as an indoor jacuzzi hot tub plus an outdoor hot tub.
At Marmot Lodge there is a heated indoor pool, an outdoor & indoor jacuzzi, plus a sauna.
Chateau Jasper offers its guests an indoor heated pool and a whirlpool.
Two rooftop hot tubs can be found at Whistlers Inn, where there is also a steam room for guests' enjoyment.
Tonquin Inn has some impressive pool facilities, with a 72′ indoor heated swimming pool, an indoor whirlpool, 2 outdoor hot tubs plus 3 saunas.
Finally, Maligne Lodge offers an indoor pool, indoor whirlpool, an outdoor hot tub, and a sauna.
If you don't stay at a hotel in Jasper with a pool, you can go for a soak or swim at the Jasper Aquatic Centre which is open to the public and boasts a 25m pool, giant waterslide which the kids will love, wading pool, large hot tub and steam room.