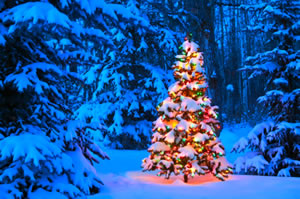 Jasper is a wonderful place to spend the 2016 Christmas holidays. The warm hospitality of the town combined with the snow covered mountain peaks, and abundance of winter activities make Jasper Alberta the ideal destination for a Christmas vacation.
Room Reservations for the Holidays
If you are planning to spend Christmas in Jasper, it is best to make your hotel reservations as early as possible while there are still rooms available at this busy time. Most Jasper hotels do not have special Christmas packages as such but are sure to have a fun festive atmosphere and will generally offer Christmas dinner in the hotel restaurant.
To check availability during the Xmas period and compare rates at several hotels in Jasper, click here.
For anyone searching for specific Jasper Christmas packages, or options for Christmas dinner, the holiday offerings at the following accommodations are sure to see you and your family celebrate Christmas in style:
Jasper's luxury hotel, the Fairmont Jasper Park Lodge, is always a special place to spend the Christmas period with a whole host of fun and festive activities and events throughout the Holidays, such as skating with the elves, Xmas carols, Holiday bingo, and Christmas cookie baking.
Holiday dining at the JPL is also hard to beat with several options for celebrating in style.
To check room rates & availability click here.
Marmot Lodge is serving Christmas dinner in Embers Steakhouse on Christmas Eve December 24 and Christmas Day December 25, costing $32. Start with a maple roasted butternut squash soup, or organic greens and seasonal vegetables, followed by an entree of roasted turducken with wild mushroom & herb stuffing with gravy, mashed potatoes, vegetables and cranberry sauce. Finish off with a unique dessert of pumpkin cheesecake spring rolls with caramel sauce.
To check room rates & availability click here.
Lobstick Lodge has a dinner buffet on Christmas Day December 25th which features a selection of salads, deli meats, seafood platter, carved roast organic turkey with herb stuffing and gravy, BBQ chicken, creamy seafood casserole, baked penne marinara, sweet potato mash, brussel sprouts and honey beets. The dessert table includes pumpkin pie, berry tarts, fresh fruit and cookies. The cost is $29 for adults and $10 for kids 12 & under.
To check room rates & availability click here.
The Crimson Jasper will be featuring a festive buffet on December 25, costing $35 for adults, or $10 for children 12 yrs or younger. Appetizers include scallop ceviche, gourmet cheeses & deli meats, whole poached Atlantic salmon, sushi rolls, plus a variety of salads. The delicious entrees include carved organic turkey with stuffing and gravy, rib of beef, garlic mash, Israeli style rice, and walnut & apple stuffed tomatoes. Rounding off this veritable feast you'll find house made gingerbread, Baileys & eggnog cheesecake, and sticky toffee pudding on the dessert table.
To check room rates & availability click here.
Pyramid Lake Resort is featuring a Christmas dinner for $69 on December 24 and 25 with a choice of apple & parsnip soup or garlic honey glazed pork belly to start, followed by goose breast with pomme puree and cranberry relish, or venison tenderloin with celeriac puree and king oyster mushroom, or honey roasted eggplant as the main course and apple tarte tatin with vanilla ice cream or rice pudding with candied oranges for dessert.
To check room rates & availability click here.
The Sawridge Inn is offering a Family Xmas Package on December 24 & 25 2016 which includes 2 nights accommodations with a hearty buffet breakfast each morning, a festive dinner on Christmas Eve December 24th and a traditional Christmas dinner buffet on Christmas Day December 25th. There will also be a range of holiday treats and activities which children of all ages are sure to enjoy. Rates start at $336 per adult.
*The dinner options below are from last year and will be updated as soon as 2016 menus are finalized*
Chateau Jasper is offering a Christmas dinner buffet in the Silverwater Grill & Lounge on December 25 2015 which includes a variety of salads, cured meats, antipasto, organic slow roasted turkey, tourtiere, maple salmon, pecan & bacon stuffing, maple roasted squash, sweet potato terrine, fresh vegetables, topped off with the Chef's Dessert Table which includes pecan pie, warm bread pudding with brandy sauce, and candy cane cheesecake plus coffee or tea. The cost of the buffet is $31 for adults and $10 for children 12 & under.
To check room rates & availability click here.
As well as the Christmas events organized by individual hotels, there are many ways to spend your days in Jasper during the Yuletide period. The more active visitors will enjoy activities such as skiing & snowboarding at Jasper's ski resort, Marmot Basin, or dog sledding near Valemount, while a more relaxing time can be had cross country skiing or simply visiting the quaint cafes and interesting stores of downtown Jasper.
No matter where you stay or how you spend your time, Christmas in the winter wonderland of Jasper National Park is sure to be a memorable experience for all.
*The above hotel rates are generally based on double occupancy, and are subject to availability, subject to applicable taxes, subject to change without notice. To confirm full details and for reservations, please use the links provided.
**The rates shown for Christmas dinner do not include tax and gratuity.