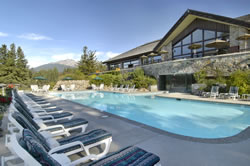 Taking a dip in a swimming pool or hot tub can be a great way to start your day in Jasper National Park, or can be the perfect way to unwind at the end of a day in the mountains. Staying at one of the Jasper hotels with pools can make that experience much more convenient and there is certainly a good selection of hotels in Jasper with pools of various shapes and sizes, ranging from swimming pools large enough for a good swim to hot tubs or hot pools where you can just sit and relax. Below you will find several options for Jasper accommodations with pools, both large and small:
The Fairmont Jasper Park Lodge has an outdoor heated swimming pool (see photo above) which is large enough for swimming laps, and is also perfect for relaxing after a day of hiking or skiing. The pool, which is open year round, is surrounded by a deck with lounge chairs and enjoys impressive views of the lake and mountains.
Guests at the Best Western Jasper Inn & Suites can take advantage of an indoor pool, Jacuzzi, sauna and steam room.
Mount Robson Inn offers two outdoor whirlpools for guests to enjoy.
At the Lobstick Lodge there is a heated indoor pool as well as 3 outdoor jacuzzis plus a sauna.
The Sawridge Inn offers an indoor heated swimming pool approx 15m long as well as an indoor jacuzzi hot tub plus an outdoor hot tub.
At Marmot Lodge there is a heated indoor pool, an outdoor & indoor jacuzzi, plus a sauna.
Chateau Jasper offers its guests an indoor heated pool and a whirlpool.
Two rooftop hot tubs can be found at Whistlers Inn, where there is also a steam room for guests' enjoyment.
Tonquin Inn has some impressive pool facilities, with a 72′ indoor heated swimming pool, an indoor whirlpool, 2 outdoor hot tubs plus 3 saunas.
Finally, Maligne Lodge offers an indoor pool, indoor whirlpool, an outdoor hot tub, and a sauna.
If you don't stay at a hotel in Jasper with a pool, you can go for a soak or swim at the Jasper Aquatic Centre which is open to the public and boasts a 25m pool, giant waterslide which the kids will love, wading pool, large hot tub and steam room.
If you'd like to stay at a hotel in Jasper and still have the option of doing your own cooking, there are several Jasper accommodations with kitchens which will enable you to do just that, and with a selection of grocery stores and the excellent Bear's Paw Bakery in town, you won't be short of supplies. The following Jasper hotels offer rooms or suites with kitchens or kitchenettes, and are conveniently located within easy reach of the restaurants of downtown Jasper, giving you the freedom to choose whether to eat in or out:
The Best Western Jasper Inn & Suites is a popular Jasper hotel which offers Studio Rooms and Upper Loft suites each of which has a kitchenette featuring a fridge, microwave, stove with 2 burners, small oven and a sink. In addition, their One and Two Bedroom suites have more extensive kitchen facilities, with a fridge, microwave, stove with 4 burners, full size oven and sink. There is a restaurant and lounge at the hotel, as well as an indoor pool, sauna, hot tub, steam room and free high speed internet.
Enjoying a quiet location just 5 minutes from downtown, Lobstick Lodge offers Kitchenette suites which have a separate bedroom and a full service kitchen with refrigerator, stove, microwave oven, toaster, pots and pans, and eating utensils. There is also a family restaurant, cafe and lounge at the property, as well as an indoor pool, hot tubs and fitness centre.
Marmot Lodge offers motel style lodging in Jasper Alberta featuring some Kitchen Suites with a full kitchen plus cooking equipment and dinnerware for 6 people. On site amenities include a steakhouse restaurant, lounge, sauna, hot tubs and indoor pool.
Maligne Lodge offers a variety of accommodations with kitchen or kitchenette facilities. Both the Family Kitchenette Suites and the Two Bedroom Executive Suites feature a fully equipped kitchen, while their Junior Suites offer a kitchenette. The Lodge also features a restaurant and pub plus an indoor pool, whirlpool, outdoor hot tub and sauna.
Tonquin Inn also features a range of accommodation with kitchens, with one bedroom Family Kitchenette Suites and Two Bedroom Executive Suites offering a fully equipped kitchen, and some of their Junior Suites offering a kitchenette. Amenities include a popular hotel restaurant, large fitness room, large indoor swimming pool with whirlpool, outdoor hot tubs and saunas.
If you are doing a tour of the Canadian Rockies, it is highly likely that you are planning to visit both Jasper and Lake Louise which means that you will have the pleasure of travelling along one of the world's most scenic highways, the Icefields Parkway (Highway 93 N). The distance from Jasper to Lake Louise is 233 km, which means that you could theoretically make the journey in around 3 to 3.5 hours, however there are so many places to stop your car and take in the magnificent scenery that it is best to allow most of the day to soak in the natural beauty of the dazzling glaciers, mountain peaks, and pristine lakes and rivers.
A quick glance at the Lake Louise hotel map will show you that there are several places to stay in Lake Louise once you have finished your scenic drive, however some people may wish to stay overnight at one of the Icefields Parkway hotels, perhaps to break up the journey or simply to spend more time enjoying this remarkable corner of both Jasper and Banff National Parks.
While there is some cabin accommodation located on Highway 93 within a few km of downtown Jasper, the first Icefields Parkway hotel found a significant distance from any town is Sunwapta Falls Resort, which offers cabin style accommodation from May to October in a stunning wilderness setting, 53 km south of Jasper.
Further south, located at the Icefield Centre 103 km from Jasper, the Glacier View Inn, open mid April to October, offers 32 guest rooms and is convenient for the Columbia Icefield Glacier Adventure one of the main attractions along the Icefields Parkway.
At Saskatchewan River Crossing, you can find motel style lodging from early April to October at the Crossing Resort, 153 km south of Jasper, where you will also find services such as a gas station, dining room, gift shop and pub.
If you are looking for a historic hotel on the Icefields Parkway with a stunning lakeside location and glacier views, Num Ti Jah Lodge should fit the bill nicely, around 40 km north of Lake Louise (approx 190 km south of Jasper), open May to October.
The Icefields Parkway is open year round, however during the winter months the road is usually covered with snow and ice and winter driving experience is recommended. After periods of heavy snow, the road may be closed, sometimes for several days, so it is always best to check the road conditions before leaving Jasper. Services are limited on Highway 93 and it is recommended to have a full tank of gas before starting your trip!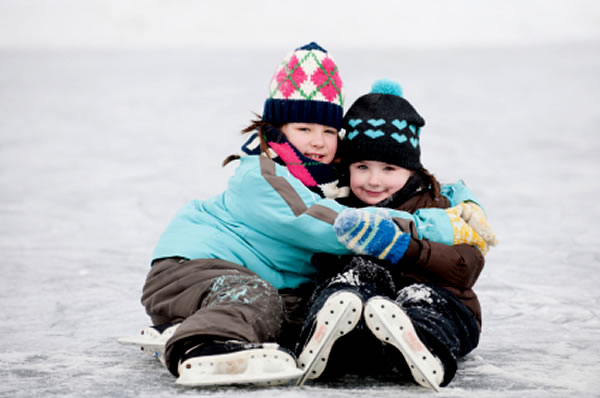 Family Day Weekend 2013 is quickly approaching, and as usual the long weekend is sure to be a busy one in Jasper Alberta. At the time of writing there is still availability at most accommodations in Jasper for the nights of February 15 and February 17 2013, however availability is limited for the night of Saturday February 16. It is strongly recommended to book your lodging as soon as possible, as most Jasper hotels are likely to fill up at this busy time.
To check rates and availability at several hotels in Jasper, click here.
If you are looking for a special package at a Jasper hotel for Family Day Weekend, you should take a look at the Fairmont Jasper Park Lodge, where you can find a Family Day Weekend Package which includes accommodation and a full program of "Madagascar" themed family activities, including snorkeling, movies and lots of fun for the kids. The Family Day Weekend Package is valid from Feb 15 to Feb 18 2013 with rates starting at $249 per night based on double occupancy of a Fairmont Room, or starting at $359 per night for a minimum 2 night stay for 4 people in a Deluxe Room, subject to availability.
Click here for details and for reservations.
No Vacancy?
If you cannot find suitable accommodation in Jasper for Family Day Weekend, you could consider staying at a hotel in Hinton. Hinton is approx 75km east of Jasper, which is a reasonable distance to drive for a day's skiing at Marmot Basin or a visit to downtown Jasper.
To check availability at hotels in Hinton, click here.
As Jasper hotels will be very busy for the Family Day holiday, we strongly recommend making reservations as early as possible using the links provided.
There is no doubt that the Fairmont Jasper Park Lodge is a magical place to be during the Christmas and New Year holidays, in no small part due to the wonderful events taking place at the hotel throughout the holiday period.
The perfect way to enjoy Christmas 2012 at the Jasper Park Lodge is through the Festival of Christmas Package which includes accommodation in a Fairmont Room, in-room Christmas tree and decorations kit, plus a range of fun-filled Christmas activities taking place at the hotel throughout the holiday period. The package is available from December 23 to 27 2012 and rates start at $399 per night based on double occupancy.
Click here for details of this package and to check availability.
Throughout the holiday period there is wonderful range of festive activities taking place at the Jasper Park Lodge which both adults and children are sure to enjoy, including Santa's Stocking Workshop, Ice Skating, Caroling by the Fire, Christmas Cookie Decorating, Holiday Bingo, and Christmas Movies.
Of course, Christmas wouldn't be complete without an amazing Christmas dinner to enjoy.
Christmas Eve Dinner Buffet – Dec 24 2012
Outstanding dinner buffet in the Beauvert Dining Room.
5.30pm – 9pm, $70 adults $35 kids 6-12 yrs
Christmas Day Brunch – Dec 25 2012
Christmas day brunch with a wide selection of breakfast items as well as mouth watering lunch dishes!
9am – 2pm, $44 adults $21.50 kids 6-12 yrs
Christmas Dinner – Dec 25 2012
Plated Christmas dinner in the Beauvert Dining Room.
5.30pm – 9pm, $70 adults $35 kids 6-12 yrs
Both the Moose's Nook and Cavell's Restaurant will also be open during the holiday period, and reservations are recommended for all Christmas dining.
Full details for Christmas activities can be found in the Jasper Park Lodge Festival of Christmas brochure which you will be given when you check in.
*The Festival of Christmas Package is subject to availability, subject to change and does not include meals.
For other Jasper Christmas packages for 2012, click here.

Whether travelling from Alberta or further afield, a romantic break with your loved one surrounded by the majestic Canadian Rockies in Jasper National Park can be the perfect way to relax and rejuvenate with your significant other. Some couples visit Jasper because of the abundant peace and quiet while others enjoy exciting winter activities together such as skiing at Marmot Basin or hiking the Maligne Canyon Icewalk.
If you are looking for a special dinner, there are several excellent restaurants in Jasper to suit any occasion, and strolling through the quaint streets of downtown, visiting cafes and browsing in shops is a great way to laze away a few hours.
To help you make the most of your winter visit to Jasper, Mount Robson Inn is offering a Suite & Sparkling Package which includes one night's accommodation in their Sunwapta Suite with Jacuzzi tub plus sparkling wine in your room when you arrive.
If you are skiing or riding at Marmot Basin, buying ski shuttle tickets along with your hotel accommodation at Mount Robson Inn will allow you to enjoy apres ski cocktails while somebody else takes care of driving.
Starting at the discounted rate of $169 per night in April (reg $215) and $180 per night in May (reg $255), Mount Robson Inn's Suite & Sparkling Package includes a one night stay in a Jacuzzi suite and a bottle of bubbly, as well as breakfast for two for all stays in May. This makes an ideal couple's getaway package whether you are visiting Jasper for a romantic getaway, a special occasion or just because you both deserve it.
Easter is a wonderful time to visit Jasper Alberta, with the skiing at Marmot Basin still wide open and a hint of spring in the air downtown. In 2012 Easter Sunday falls on April 8, and with record snowfall this winter, the skiing and snowboarding conditions are sure to be still excellent for the Easter holiday weekend.
Hotel Reservations for Easter
You can expect Jasper hotels to be busy for Easter 2012, particularly for the night of Saturday April 7, so if you are planning an Easter ski trip, or just a weekend taking in the beauty of Jasper National Park, you should book your lodging early to avoid disappointment.
To check rates & availability for several hotels in Jasper, click here.
Luxury Easter Hotel Package
To celebrate this special weekend in style, the Fairmont Jasper Park Lodge is offering a fun filled Easter Weekend Package which includes luxury accommodation, plus a whole array of family activities throughout Easter weekend.
The Easter activities include Easter egg hunt, family movies, scavenger hunts, crafts, Easter egg decorating, and lots more.
The package is valid for a minimum 2 night stay from April 6-8 2012, with rates starting at $349 per night in a deluxe room.
For further information and to book this package, click here.
As usual, dining at the Jasper Park Lodge during Easter will be first class, with a Good Friday Buffet being served on the evening of April 6 (adults $58, kids 6-12yrs $29), an Easter Feast on Saturday April 7 (adults $58, kids 6-12yrs $29), and an Easter Sunday Brunch from 10am to 1pm on April 8 (adults $38, kids 6-12yrs $19).
With Jasper's 2012-2013 ski season well underway, now is a good time to start thinking about a skiing or snowboarding trip to Jasper Alberta. Several hotels in Jasper have put together some attractive ski and stay packages to give you the best value for money when combining your Jasper hotel with lift tickets for Marmot Basin ski resort.
Here are some of the best Jasper ski deals we could find:
Cheap Room Only Deals
If you already have a ski pass, or perhaps you would like to leave your ski plans open, you may prefer to get a hotel on a room only basis rather than a ski and hotel package. For many dates throughout the winter, rooms at some Jasper hotels can be found for as low as $90 per night.
To check room-only rates and availability click here.
Ski & Hotel Packages
One of our favourite ski packages in Jasper is at the Fairmont Jasper Park Lodge which includes free ski passes for Marmot Basin with your hotel room. The Ski for Free package includes 1 free day of skiing (2 lift tickets) for a 2 night stay, 2 free days of skiing (4 lift tickets) for a 3 night stay and 3 free days of skiing (6 lift tickets) for a 4 night stay. Transportation to and from the ski hill is also included.
Rates start at $249 per room per night (less than $125 per person), which is very reasonable considering the luxury standard of the hotel.
The offer is valid for a minimum 2 night stay from the opening day of Marmot Basin, November 9 2012 until April 12 2013.
For further details of this package and to check availability, Click Here.
Mount Robson Inn has ski packages available for the 2012-13 winter season which include 2 nights of accommodations with daily breakfast plus ski passes for 2 days of skiing. Rates vary depending on dates, for example the early bird rate from November 9 to December 26 2012 starts at $261 per person, the Jasper in January rate from January 11 to 27 starts at $227.00 per person, and the regular season rate from January 28 to closing day starts at $270.00 per person. All rates are based on double occupancy in a standard room and are inclusive of taxes.
Early Season Ski & Stay
For early season skiing and riding, the Scrooge Ski Package at the Amethyst Lodge is valid from November 9 2012 to December 16 2012 and includes 1 night's lodging including breakfast and dinner, a lift pass for Marmot Basin, plus lunch at Marmot Basin. Rates start at $149 per person per night.
*The above rates are generally based on double occupancy, and are subject to availability, subject to applicable taxes, subject to change, and certain date restrictions may apply. To confirm full details and for reservations, please visit the Jasper hotel websites using the links provided.
For more great skiing in the Canadian Rockies, be sure to check out the Banff ski packages at BanffHotels.org featuring hotel and lift ticket deals in the Banff and Lake Louise area.
The idea of putting your feet up in front of the fire in a cozy log cabin after a day on the slopes is a dream many of us have had. While there is certainly a good variety of cabins in Jasper, most are closed for the winter season, however the following Jasper cabins are open year round and can turn that dream into reality.
The Bear Hill Lodge offers cabin and chalet style lodging in a quiet forested refuge, yet is conveniently located within walking distance of the shops and restaurants of downtown Jasper. With a variety of accommodations ranging from chalet rooms to deluxe chalet suites, the Bear Hill Lodge caters to all tastes and budgets, but those looking for the Canadian Rockies cabin experience will surely be drawn to the Heritage Log Cabin. These two bedroom cabins boast a full kitchen, full bathroom, plus a sitting room with a gas or wood burning fireplace. The bedrooms have either one double bed or a double plus two twins, and there is a double pull out bed in the sitting area, meaning that a variety of family scenarios can be catered for. With the beautiful log construction visible on the inside, the cabins have a wonderful rustic charm, made even more cozy when surrounded by a blanket of snow.
For further information, rates and for reservations, please visit the Bear Hill Lodge website by clicking here.
Another excellent option for Jasper cabin accommodation during the winter season can be found at Pocahontas Cabins, located in a stunning natural location 25 minutes drive from downtown Jasper and just 5 minutes from the Jasper National Park east gate. The Panebode motel units are keenly priced and will suit those with their eye on the budget, however it is the Deluxe Log Cabins that will really appeal to those looking for a romantic retreat. These cabins feature a queen bed, full kitchen and bathroom, a living room with TV/DVD, gas fireplace, verandah and the fabulous setting means that you'll enjoy magnificent mountain views right from your door!
To find out more and for rates and reservations, please click here to visit the Pocahontas Cabins website.

To accompany our recommendations for Christmas activities at the Fairmont Jasper Park Lodge, we'd like to tell you about some of the great events and celebrations taking place at the Lodge over the 2011-2012 New Year period. From Children's parties to fine dining, no matter how you choose to bring in the New Year, it looks like New Year's Eve at the Jasper Park Lodge will be hard to beat.
Top Hats & Tiaras
This is a superb idea for families with young children – a special New Year's Eve celebration just for 5-12 year olds with a kids' buffet, magic show, children's games and crafts, taking place in Pyramid C from 5.30pm to 12.30am, and costing $55 per child.
Times Square – New York City Gala
A New Year's Eve celebration on December 31 2011 inspired by the streets of old New York, including a delectable dinner, martinis and live music in the Beauvert Dining Room, including ticket for the 2012 Countdown Celebration (see below).
Adults $145
Young adults 13-18 yrs $145
Children 6-12 yrs $72.50
Countdown Celebration
New Year's Eve party in the Great Hall including a night of music and entertainment. Tickets for this party are included with the Times Square – New York City Gala above, or can be purchased for the dance only.
Adults $30
The Dining Experience
As an adult-only alternative to the Times Square – New York City Gala, the Moose's Nook Restaurant offers a 5 course fine dining experience in sophisticated surroundings, with entertainment provided by a musical trio. Ticket to the Countdown Celebration included.
Adults $150 excluding alcohol
Adults $195 with wine pairings
New Year's Day Brunch
There's no better way to start off the year than to indulge in a wonderful variety of breakfast and lunch items at Jasper Alberta's finest brunch in the Beauvert Dining Room from 10am to 2pm.
Adults $43
Children 6-12 yrs $21.50
As well as the celebrations and dining options shown above, there is a whole array of activities available at the Jasper Park Lodge throughout the Christmas and New Year period. You will find full information in the Festival of Christmas brochure which you can view by clicking here.
Tip: For the ultimate Canadian Rockies experience this holiday season, if you are planning to spend New Years in Jasper, why not consider Christmas in Banff?