Jasper Heritage Rodeo Aug 14-17 2013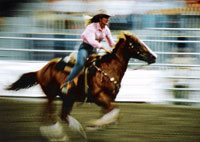 Dating back to 1926, the Jasper Heritage Rodeo takes place every August in Jasper Alberta and to this day both locals and tourists still enjoy this exciting cowboy event which includes bull riding, bareback riding, barrel racing and steer wrestling.
The 2013 event will take place on August 14, 15, 16, and 17, and as always it's sure to be one of the funnest weekends of the summer in Jasper.
*Below you can see some of the entertainment schedule from the 2011 event. This will be updated for 2013 once new information becomes available*
Each evening from 7pm you'll be able to see thrilling rodeo events at the Jasper Activity Centre, with August 18 being a special Family Night. Doors open at 6pm, and tickets are available at the Athabasca Hotel 10am to 4pm or from 4pm at the Jasper Activity Centre, costing $20 for adults and $12 for children 5-14 yrs, 4 & under free. Family night (Aug 18) has a special rate of $52 for 2 adults and 2 children.
Throughout rodeo week there will be fun events around town, with the Jasper Rodeo Wranglers giving prizes to people dressed in 'western' attire, and Miss Rodeo Jasper riding through downtown with prizes to be won depending on her horse's bathroom habits!
From August 17-19 you'll be able to grab a great lunch while admiring the scenery at the annual Rodeo BBQ from 11am to 2pm in the CIBC parking lot, while also helping the fundraising efforts of the Jasper Grizzlies Girl's Hockey Team, who are organizing the Barbecue.
Kids will get their own chance to take part in the rodeo during the Stick Pony Parade on August 17. Open to all, and free of charge, the parade will start at 10am from the Jasper Activity Centre parking lot and proceed through town with Miss Rodeo Jasper.
August 20 sees the Tough Enough to Wear Pink night at the rodeo, in the name of breast cancer awareness, with funds being raised for this worthy cause. To round off the 2011 Jasper rodeo, at 9pm the same night the Rodeo Dance ($20) takes place in the curling arena.
All in all the Jasper Heritage Rodeo is a fun event for the whole family, and a great time to visit Jasper.
For more information about the Jasper Heritage Rodeo visit www.jasperheritagerodeo.com.
To find accommodations in Jasper during the rodeo, visit www.jasperhotels.com