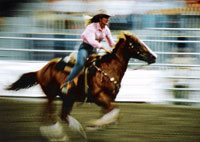 Dating back to 1926, the Jasper Heritage Rodeo takes place every August in Jasper Alberta and to this day both locals and tourists still enjoy this exciting cowboy event which includes bull riding, bareback riding, barrel racing and steer wrestling.
The 2013 event will take place on August 14, 15, 16, and 17, and as always it's sure to be one of the funnest weekends of the summer in Jasper.
*Below you can see some of the entertainment schedule from the 2011 event. This will be updated for 2013 once new information becomes available*
Each evening from 7pm you'll be able to see thrilling rodeo events at the Jasper Activity Centre, with August 18 being a special Family Night. Doors open at 6pm, and tickets are available at the Athabasca Hotel 10am to 4pm or from 4pm at the Jasper Activity Centre, costing $20 for adults and $12 for children 5-14 yrs, 4 & under free. Family night (Aug 18) has a special rate of $52 for 2 adults and 2 children.
Throughout rodeo week there will be fun events around town, with the Jasper Rodeo Wranglers giving prizes to people dressed in 'western' attire, and Miss Rodeo Jasper riding through downtown with prizes to be won depending on her horse's bathroom habits!
From August 17-19 you'll be able to grab a great lunch while admiring the scenery at the annual Rodeo BBQ from 11am to 2pm in the CIBC parking lot, while also helping the fundraising efforts of the Jasper Grizzlies Girl's Hockey Team, who are organizing the Barbecue.
Kids will get their own chance to take part in the rodeo during the Stick Pony Parade on August 17. Open to all, and free of charge, the parade will start at 10am from the Jasper Activity Centre parking lot and proceed through town with Miss Rodeo Jasper.
August 20 sees the Tough Enough to Wear Pink night at the rodeo, in the name of breast cancer awareness, with funds being raised for this worthy cause. To round off the 2011 Jasper rodeo, at 9pm the same night the Rodeo Dance ($20) takes place in the curling arena.
All in all the Jasper Heritage Rodeo is a fun event for the whole family, and a great time to visit Jasper.
For more information about the Jasper Heritage Rodeo visit www.jasperheritagerodeo.com.
To find accommodations in Jasper during the rodeo, visit www.jasperhotels.com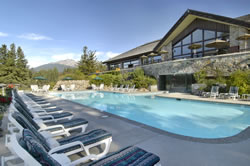 Taking a dip in a swimming pool or hot tub can be a great way to start your day in Jasper National Park, or can be the perfect way to unwind at the end of a day in the mountains. Staying at one of the Jasper hotels with pools can make that experience much more convenient and there is certainly a good selection of hotels in Jasper with pools of various shapes and sizes, ranging from swimming pools large enough for a good swim to hot tubs or hot pools where you can just sit and relax. Below you will find several options for Jasper accommodations with pools, both large and small:
The Fairmont Jasper Park Lodge has an outdoor heated swimming pool (see photo above) which is large enough for swimming laps, and is also perfect for relaxing after a day of hiking or skiing. The pool, which is open year round, is surrounded by a deck with lounge chairs and enjoys impressive views of the lake and mountains.
Guests at the Best Western Jasper Inn & Suites can take advantage of an indoor pool, Jacuzzi, sauna and steam room.
Mount Robson Inn offers two outdoor whirlpools for guests to enjoy.
At the Lobstick Lodge there is a heated indoor pool as well as 3 outdoor jacuzzis plus a sauna.
The Sawridge Inn offers an indoor heated swimming pool approx 15m long as well as an indoor jacuzzi hot tub plus an outdoor hot tub.
At Marmot Lodge there is a heated indoor pool, an outdoor & indoor jacuzzi, plus a sauna.
Chateau Jasper offers its guests an indoor heated pool and a whirlpool.
Two rooftop hot tubs can be found at Whistlers Inn, where there is also a steam room for guests' enjoyment.
Tonquin Inn has some impressive pool facilities, with a 72′ indoor heated swimming pool, an indoor whirlpool, 2 outdoor hot tubs plus 3 saunas.
Finally, Maligne Lodge offers an indoor pool, indoor whirlpool, an outdoor hot tub, and a sauna.
If you don't stay at a hotel in Jasper with a pool, you can go for a soak or swim at the Jasper Aquatic Centre which is open to the public and boasts a 25m pool, giant waterslide which the kids will love, wading pool, large hot tub and steam room.
If you'd like to stay at a hotel in Jasper and still have the option of doing your own cooking, there are several Jasper accommodations with kitchens which will enable you to do just that, and with a selection of grocery stores and the excellent Bear's Paw Bakery in town, you won't be short of supplies. The following Jasper hotels offer rooms or suites with kitchens or kitchenettes, and are conveniently located within easy reach of the restaurants of downtown Jasper, giving you the freedom to choose whether to eat in or out:
The Best Western Jasper Inn & Suites is a popular Jasper hotel which offers Studio Rooms and Upper Loft suites each of which has a kitchenette featuring a fridge, microwave, stove with 2 burners, small oven and a sink. In addition, their One and Two Bedroom suites have more extensive kitchen facilities, with a fridge, microwave, stove with 4 burners, full size oven and sink. There is a restaurant and lounge at the hotel, as well as an indoor pool, sauna, hot tub, steam room and free high speed internet.
Enjoying a quiet location just 5 minutes from downtown, Lobstick Lodge offers Kitchenette suites which have a separate bedroom and a full service kitchen with refrigerator, stove, microwave oven, toaster, pots and pans, and eating utensils. There is also a family restaurant, cafe and lounge at the property, as well as an indoor pool, hot tubs and fitness centre.
Marmot Lodge offers motel style lodging in Jasper Alberta featuring some Kitchen Suites with a full kitchen plus cooking equipment and dinnerware for 6 people. On site amenities include a steakhouse restaurant, lounge, sauna, hot tubs and indoor pool.
Maligne Lodge offers a variety of accommodations with kitchen or kitchenette facilities. Both the Family Kitchenette Suites and the Two Bedroom Executive Suites feature a fully equipped kitchen, while their Junior Suites offer a kitchenette. The Lodge also features a restaurant and pub plus an indoor pool, whirlpool, outdoor hot tub and sauna.
Tonquin Inn also features a range of accommodation with kitchens, with one bedroom Family Kitchenette Suites and Two Bedroom Executive Suites offering a fully equipped kitchen, and some of their Junior Suites offering a kitchenette. Amenities include a popular hotel restaurant, large fitness room, large indoor swimming pool with whirlpool, outdoor hot tubs and saunas.
If you are doing a tour of the Canadian Rockies, it is highly likely that you are planning to visit both Jasper and Lake Louise which means that you will have the pleasure of travelling along one of the world's most scenic highways, the Icefields Parkway (Highway 93 N). The distance from Jasper to Lake Louise is 233 km, which means that you could theoretically make the journey in around 3 to 3.5 hours, however there are so many places to stop your car and take in the magnificent scenery that it is best to allow most of the day to soak in the natural beauty of the dazzling glaciers, mountain peaks, and pristine lakes and rivers.
A quick glance at the Lake Louise hotel map will show you that there are several places to stay in Lake Louise once you have finished your scenic drive, however some people may wish to stay overnight at one of the Icefields Parkway hotels, perhaps to break up the journey or simply to spend more time enjoying this remarkable corner of both Jasper and Banff National Parks.
While there is some cabin accommodation located on Highway 93 within a few km of downtown Jasper, the first Icefields Parkway hotel found a significant distance from any town is Sunwapta Falls Resort, which offers cabin style accommodation from May to October in a stunning wilderness setting, 53 km south of Jasper.
Further south, located at the Icefield Centre 103 km from Jasper, the Glacier View Inn, open mid April to October, offers 32 guest rooms and is convenient for the Columbia Icefield Glacier Adventure one of the main attractions along the Icefields Parkway.
At Saskatchewan River Crossing, you can find motel style lodging from early April to October at the Crossing Resort, 153 km south of Jasper, where you will also find services such as a gas station, dining room, gift shop and pub.
If you are looking for a historic hotel on the Icefields Parkway with a stunning lakeside location and glacier views, Num Ti Jah Lodge should fit the bill nicely, around 40 km north of Lake Louise (approx 190 km south of Jasper), open May to October.
The Icefields Parkway is open year round, however during the winter months the road is usually covered with snow and ice and winter driving experience is recommended. After periods of heavy snow, the road may be closed, sometimes for several days, so it is always best to check the road conditions before leaving Jasper. Services are limited on Highway 93 and it is recommended to have a full tank of gas before starting your trip!
For anyone looking for an adrenalin filled day, you can't beat the Jasper whitewater rafting experience, and who better to provide that experience than Jasper's Whitewater Rafting Ltd. Choose between 3 tours – two at Class 2 white water rapids on the Athabasca River and one at Class 3 on the Sunwapta River. The tours last between 2 to 3.5 hours and include licensed guides plus all necessary equipment.
For more information and reservations, visit www.whitewaterraftingjasper.com.
Jasper National Park is home to some of the most outstanding hiking trails in Canada. The hiking trails in Jasper are usually much quieter than in Banff National Park, and in a short amount of time you can find yourself in true mountain wilderness.
Some of our preferred short hikes include Maligne Canyon, and the Patricia Lake Circle, and if you are out for a full day hike you could try Opal Hills or the Cavell Meadows Loop. For a muti day backpacking experience, the Tonquin Valley is a wonderful destination for a 3 day hike.
Get full details on hikes in Jasper at the Parks Canada website.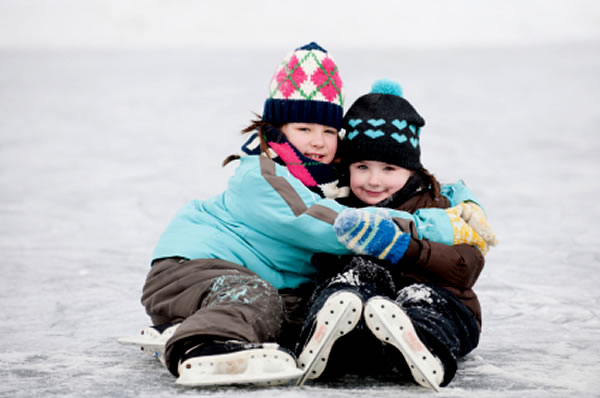 Family Day Weekend 2013 is quickly approaching, and as usual the long weekend is sure to be a busy one in Jasper Alberta. At the time of writing there is still availability at most accommodations in Jasper for the nights of February 15 and February 17 2013, however availability is limited for the night of Saturday February 16. It is strongly recommended to book your lodging as soon as possible, as most Jasper hotels are likely to fill up at this busy time.
To check rates and availability at several hotels in Jasper, click here.
If you are looking for a special package at a Jasper hotel for Family Day Weekend, you should take a look at the Fairmont Jasper Park Lodge, where you can find a Family Day Weekend Package which includes accommodation and a full program of "Madagascar" themed family activities, including snorkeling, movies and lots of fun for the kids. The Family Day Weekend Package is valid from Feb 15 to Feb 18 2013 with rates starting at $249 per night based on double occupancy of a Fairmont Room, or starting at $359 per night for a minimum 2 night stay for 4 people in a Deluxe Room, subject to availability.
Click here for details and for reservations.
No Vacancy?
If you cannot find suitable accommodation in Jasper for Family Day Weekend, you could consider staying at a hotel in Hinton. Hinton is approx 75km east of Jasper, which is a reasonable distance to drive for a day's skiing at Marmot Basin or a visit to downtown Jasper.
To check availability at hotels in Hinton, click here.
As Jasper hotels will be very busy for the Family Day holiday, we strongly recommend making reservations as early as possible using the links provided.
Find discounted hotels in Jasper and cheap lift tickets at Marmot Basin ski resort from Jan 11th to 27th 2013 at the 24th annual Jasper in January event. With cheap deals at many Jasper accommodations, there is no excuse not to come to Jasper and experience this fun family festival.
Jasper in January Festival 2013
Room Only for $90 per Night
Many Jasper accommodations are offering very attractive room only deals throughout Jasper in January, with rates at some properties as low as $90 per night at the time of writing.
Click here and enter your dates to check current rates & availability at several hotels in Jasper.
Great Rates at a Luxury Hotel
If you are looking for a special discounted rate at one of Jasper's most desirable hotels, the Fairmont Jasper Park Lodge has a Jasper in January Offer featuring attractive room rates from $247 per night from January 11th to January 27th 2013.
Click here to find out more about this offer.
Discounted Ski Passes
Day passes for Marmot Basin will cost $60 + GST during Jasper in January, which is almost a 25% discount off normal rates.
Jasper in January Events & Activities
The Jasper in January 2013 schedule promises an exciting range of fun events taking place throughout the town, including street parties, skating parties, terrific food and wine, and lots of live music.
On the first weekend, to get the festival started, the Whistle Stop Pub is hosting a Kick Off Party from 9pm on Friday Jan 11th and the band Mourning Wood are playing the same day at the Athabasca Hotel from 8pm ($5). On Saturday Jan 12th there is Dog Sledding as well as a whole host of family events taking place at Pyramid Lake from 11am-3pm including ice skating and a bannock bake. On the evening of Jan 12 the Loud and Proud Party is a lively drag show taking place at the Whistle Stop Pub from 9pm and Mourning Wood are back at the Athabasca Hotel from 8pm. On Sunday Jan 13th you'll find a Family Fun Race at Marmot Basin from 9am, which is a free event.
On Friday Jan 18th, the ever popular Annual Chilli Cook Off takes place at the Jasper Activity Centre from 6pm to midnight including awesome food and an even better party ($15), and on Saturday 19th is the Family Street Party from 6-9pm in downtown Jasper where in past years the fun has included music, food, street hockey, children's games, street performers, line dancing, face painting, as well as special events and offers from many Jasper businesses. This free event culminates in a Walk of Lights at 9pm and a firework display at 9.30pm at Centennial Park.
The Polar Bear Dip sounds like a sobering way to round off the weekend, taking place at 1pm on Sunday Jan 20th at Patricia Lake. Also on the 20th is the Moonlight Charity Skate taking place from 6-8pm on Mildred Lake near the Jasper Park Lodge, and a Scavenger Hunt at Marmot Basin ski resort (9am-2pm).
On the final festival weekend our pick for Friday 25th is the Wine in Winter evening at Chateau Jasper (7-10pm, $25), which is a wine tasting event featuring a wide selection of international wines plus appetizers. The same evening sees Robbie Burn's Night at the Jasper Legion (6.30pm) and an Indoor Snowball Fight at the De'd Dog Bar (7pm).
On Saturday 26th experience Avalanche Awareness Days (10am-4.30pm), and Tracks in the Snow wildlife games and presentation (11am-1pm) both at Marmot Basin. That evening the Hops And Scotch beer, wine and spirits tasting takes place at the Sawridge Inn (6-9.30pm, $26), while the Hops And Scotch After Party at Jasper Brewing Company (9pm) looks like a great way to round off Jasper in January 2013 in style with some locally brewed craft beer.
Above is just a brief selection of the events taking place during Jasper in January 2013. To view the full schedule on the Jasper Tourism website, click here.
To find a Jasper hotel during the festival, visit JasperHotels.com.
*The hotel rates shown above are subject to applicable taxes, subject to availability and subject to change without notice, and are generally based on double occupancy.
To confirm packages and for reservations, please use the links provided.
New Year's Eve is a fantastic celebration in all parts of the world, but there is something about being surrounded by snow in the majestic Canadian Rockies that will make New Year 2012-2013 in Jasper difficult to beat. Hotels in Jasper are sure to be busy on December 31 and early reservations are strongly recommended.
Find Accommodations
To check availability and rates for Jasper hotels for New Years 2012-13 or any other dates click here and enter your travel dates.
*Note that if you need a room for December 31 you may have a better chance finding availability for a stay of 2 nights or longer.
Several Jasper accommodations have put together special New Years packages, some of which we have featured below:
Perhaps the widest selection of celebrations and activities can be found at the Fairmont Jasper Park Lodge where you will find several New Year dinner options, a New Year's Eve party, and a New Year's Day brunch. Being Jasper's largest hotel, this may be your best bet if other accommodations in Jasper are already full.
Click here for details and to check availability.
The Sawridge Inn will also be a special place to spend New Years with the Hearthstone Lodge offering a special 5 course dinner, and Walter's Dining Room offering a New Year's Dinner Buffet from 5-9.30pm, featuring various types of seafood, a selection of salads, a carvery with Horseradish and Mustard Rubbed Alberta Prime Rib and Apple Cranberry Stuffed Pork Loin, cornish game hen, maple salmon, plus a chocolate fountain!
For another great New Year's Eve dining option, Marmot Lodge will be offering a special Prime Rib Dinner Buffet on December 31 2012 in Embers Steakhouse.
No Vacancy ?
If you are struggling to find a vacancy at Jasper hotels for New Year's Eve, an alternative would be to stay at a hotel in Hinton, approx 75km east of Jasper. The atmosphere may not be quite as festive as in Jasper, but it would give you a reasonable drive into Jasper on New Year's Day.
To check availability at hotels in Hinton, click here.
Special Celebrations
Many hotels in Jasper will have special New Year's dinners and celebrations in their own properties, and if you would like to venture out of your hotel and into town, you may be interested in one the following New Year's Eve events:
New Years Eve Party at the De'd Dog Pub
Located at the Astoria Hotel, the De'd Dog Bar & Grill is hosting a New Years party on December 31st 2012, which will feature a DJ, party favours, and champagne at midnight to see in the New Year 2013.
$25 per ticket
404 Connaught Drive
Tel: 780 852 3351
New Years Dinner & Party at the Athabasca Hotel
On December 31 the Athabasca Hotel will be hosting a New Year's Eve dinner for $69.95 which includes entrance to the party in the Atha-B where the live band Tupelo Honey will be playing to help you see in 2013.
Tickets for the party only are also available, costing $29.95.
510 Patricia Street
Tel: 780 852 3386
New Years Eve Party at the Whistle Stop Pub
The Whistle Stop Pub at Whistler's Inn will be open as normal on December 31st 2012 with party favours and champagne at midnight. There is no charge for entrance, which means it will get busy so it's recommended to get there early!
No Cover
105 Miette Ave
Tel: 780 852 3361
New Year's Day may be a day of recovery for many, but for those with some energy in reserve, skiing at Marmot Basin would be a great option, or to continue the indulgence, New Year's Day brunch at the Fairmont Jasper Park Lodge would be the perfect way to carry on the party.
*The above hotel rates are subject to applicable taxes, subject to availability, subject to change, and are generally based on double occupancy.
If you want to spend the whole holiday period in Jasper, you should also take a look at the Jasper Christmas packages for 2012.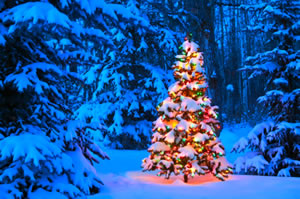 Jasper is a wonderful place to spend the Christmas holidays. The warm hospitality of the town combined with the snow covered mountain peaks, and abundance of winter activities make Jasper Alberta the ideal destination for a Christmas vacation.
Room Reservations for the Holidays
If you are planning to spend Christmas in Jasper, it is best to make your hotel reservations as early as possible while there are still rooms available at this busy time. Most Jasper hotels do not have special Christmas packages as such but are sure to have a fun festive atmosphere and will generally offer Christmas dinner in the hotel restaurant.
To check availability during the Xmas period and compare rates at several hotels in Jasper, click here.
For anyone searching for specific Jasper Christmas packages, or options for Christmas dinner, the holiday offerings at the following accommodations are sure to see you and your family celebrate Christmas in style:
Jasper's luxury hotel, the Fairmont Jasper Park Lodge, has a special Festival of Christmas Package which includes accommodation in a Fairmont Room with your own Christmas tree in the room which you get to decorate yourself, plus a range of festive activities in and around the hotel. Starting at $399 per night, this Jasper Christmas package is available from December 23-27 2012.
Click here for further details.
Chateau Jasper is offering a Christmas dinner buffet in the Silverwater Grill & Lounge on December 25 2012 which includes a variety of salads, cured meats, smoked seafood, herbed roasted turkey, honey dijon ham, pecan & chorizo stuffing, roasted winter squashes, red & sweet potato mash, fresh vegetables, topped off with the Chef's Dessert Table which includes pumpkin pie and warm caramel bread pudding, plus coffee or tea. The cost of the buffet is $28 for adults and $10 for children 6-12 years.
Marmot Lodge is serving Christmas dinner in Embers Steakhouse on Christmas Eve December 24 and Christmas Day December 25, costing $25. Start with a mushroom & chili soup with chicken apple meatballs, or organic greens and garden vegetables, followed by an entree of turkey and wild mushroom wellington with gravy and cranberry sauce and a pumpkin cheesecake for dessert.
**The menus below are from Xmas 2011 and the information is now out of date. This section will be updated as new information becomes available.**
Lobstick Lodge has a dinner buffet on Christmas Day December 25th which features a selection of salads, carved roast turkey with stuffing and gravy, BBQ chicken, oven baked salmon, maple roasted sweet potatoes and vegetables. The dessert table includes pumpkin pie, berry tarts, fresh fruit and cookies. The cost is $28 for adults and $10 for kids 6-12 years.
Amethyst Lodge is featuring a Christmas dinner for $25 on December 24 and 25 with a choice of roasted maple butternut squash soup or winter garden greens to start, followed by Tom Turkey with all the trimmings as the main course and pumpkin pie with whipped cream for dessert.
The Sawridge Inn is offering a 2 day Xmas Package on December 24 & 25 2012 which includes 2 nights accommodations with a hearty buffet breakfast each morning, a Xmas treat platter delivered to your room, a buffet dinner on Christmas Eve December 24th and a traditional Christmas dinner buffet on Christmas Day December 25th. The Christmas Day dinner buffet will include delectable items such as Roast Turkey, Alberta Prime Rib, and a Chocolate Fountain. There will also be some festive family events taking place such as gingerbread house building, movie night, and children Christmas stockings. Rates start at $261 per adult per package.
As well as the Christmas events organized by individual hotels, there are many ways to spend your days in Jasper during the Yuletide period. The more active visitors will enjoy activities such as skiing & snowboarding at Jasper's ski resort, Marmot Basin, or dog sledding near Valemount, while a more relaxing time can be had cross country skiing or simply visiting the quaint cafes and interesting stores of downtown Jasper.
No matter where you stay or how you spend your time, Christmas in the winter wonderland of Jasper National Park is sure to be a memorable experience for all.
*The above hotel rates are generally based on double occupancy, and are subject to availability, subject to applicable taxes, subject to change without notice. To confirm full details and for reservations, please use the links provided.
**The rates shown for Christmas dinner do not include tax and gratuity.